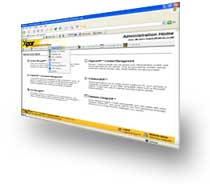 Nuclear Future Journal goes Online

Client Overview:
Nuclear Future is the joint journal of the British Nuclear Society and the Institution of Nuclear Engineers. It is a bi-monthly journal with a circulation in excess of 3,250 copies per issue to its membership, subscribers and supporting companies.
Brief:
Nuclear Future approached Webree to bring their popular journal online, but also needed the software behind the site to enable:
* Online subscription purchasing
* Ability for non subscribers to purchase articles online
* Automate subscription renewals
* Online article submission and review process
* Search online archive and download articles
Solution:
1. CMS
If your journal is a major information source on a key subject like Nuclear Energy , it's crucial that it's online to help promote awareness. Equally as important is the ability to add and edit the content of the website in-house quickly and easily to reflect current issues.
Nuclear Future's website has been built using Webree's Content Management System (CMS) software IBIS, that enables complete in-house management of the web service.

2. Online Purchasing


Nuclear Future's site provides the facility to purchase either a 12-month subscription or individual articles online. Subscribers can then log into a private area and are able to search the full journal archive and download any article of interest.

3. Subscription Management
The system understands when a subscription is due for renewal and triggers automated email notifications to the subscriber, providing them with the facility to renew their subscription online. In the unlikely event that a subscriber does not renew their subscription, the system automatically deactivates their subscriber privileges such as access to the archive and stops the dispatch of the journal's hard copy.

4. Online Article Submission and Review Process
Nuclear Futures site enable's anyone to upload articles for consideration of publication in the journal. When an article is uploaded the peer reviewers are automatically notified by email, they then approved or reject the article and an automated email is sent to the author to notify them of the decision.


The site provides an online "My Documents" area for each author to store and edit their articles in a folder directory.

The Benefits:
Managing a subscription service manually can be an overwhelming task, so providing a web service that can automate basic administrative tasks is invaluable. The RIGHT web service and development partner can improve the accuracy of information within an organisation and significantly lighten the administrative load.

Nuclear Future's system also produces reports showing total subscription levels, lapsed subscriptions, cash flow analysis and forecasting.

Our CMS software IBIS has made the day-to-day management of their subscription service easier and much more efficient.

See the site www.nuclearfuture.info

Webree regularly consult with all of our clients to review and improve their online services, ensuring that the software takes the strain, not them.

If you'd like to put your journal or magazine online and automate your subscription services call us to discuss how it easy it could be on 02392 738000