Webree to walk Yorkshire Three Peaks
Have you ever been asked "Do you think we are a charity?" and then been told to "take a hike"? Well Marie Curie Cancer is as good a charity as you'll come across and taking a hike is what we're going to do for them.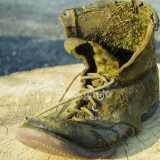 In less than 12 hours we will cover 26 miles of beautiful Yorkshire hills, in brilliant sunshine, with a gentle breeze, good company and a cheery spirit.
It won't be raining, with a howling gale and we won't be ripping shreds out of each other, with backbiting criticisms of this stupid idea, which, by the way, wasn't mine!
For the past three years we have been in training for this event. Regular walks up and down the stairs to get tea and coffee have us now in peak condition. Why not have a gamble on this foolhardy adventure and sponsor us? It's a WIN WIN situation. If we make our target, your bet goes to Marie Curie. If we don't you can point and laugh!