One of the better bakers on the webree team, Vicky, drew the worst contestant in this years Great British Bake-off office sweep - Stu. As a consequence she has been eliminated at the first hurdle.
Difficult to be sad about this because we've just scoffed her parting-shot bake - a Black Forest Gateau.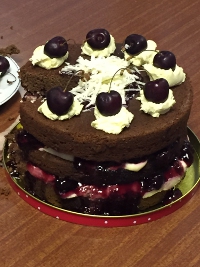 In the absence of star judges, Paul "takes no prisoners" Holywood or Mary "everybody loves her" Berry, the rest of the webree team stepped up and judged her bake for
presentation
flavour
crumb and
interpretation of this 70's classic.
The girl did good! As a consequence, Vicky has been given another chance to win - taking a second chance contestant, Ugne.
More cake from Vicky soon then!